Mga Halimbawa ng mga Instrumentong Etniko
A. Pinupukpok*
*Idiophones = percussion instruments
Lumilikha ito ng tunog kapag pinupukpok, kinakalog, hinahampas o hinahataw (sounds are created when these instruments are battered, shakened, hit or smashed).

Ang pagdagundong nito ay nalilikha kahit na walang mga tali gaya ng sa gitara (vibrations are created even when there are no strings--such as strings in guitars--that are included or attached in the instrument).
1. Bunkaka/Balingbing/ Bilbil/Tuganang/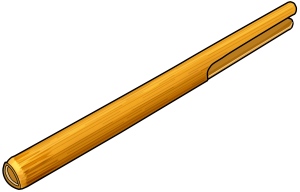 -Kilala ito na ginagamit ng mga taong Tingguian (o mga Itneg ng Abra), isang tribu ng mga Igorot sa bulubundukin ng Cordillera.

-Ang instrumentong "bunkaka" at "balingbing" ay mga tawag hango sa salitang Kalinga, at "bilbil" naman sa wikang Itneg ng mga Tingguianos.

-"Tuganang" naman ang tawag dito ng mga tribu sa Palawan.

-Ang isang dulo nito ay pinapalo sa palad upang mapatunog ito.

-Ito ay isang kawayan na kung saan ang isang dulo nito ay nakabuka.
2. Gangsa/Agung/Kulintang
-Ginagamit ng mga taong Igorot sa Kalinga, Ifugao, Bontoc at Apayao ng Luzon at pati ng mga tribung Maranao sa Midanao


-"Gangsa" ang tawag dito ng mga tribu sa Bontoc. "Agung" o "kulintang" naman sa mga Maranao
-Ang instrumentong ay pinupukpok ng isang patpat


-Ito ay yari sa metal.
3. Sulibaw
-Ginagamit ng mga taong Ibaloi na mga Igorot sa Kalinga.
-Ang instrumentong ito ay tinutugtog nang nakapatong sa kandungan ng manunugtog
-Ito ay hudis apa (cone)
4. Kubing
*Aerophones = wind instruments
1. Pasiyok
-Pinupuno ng tubig ang katawan nito at hinihipan ang isang maliit nabutas sa dulo ng tubo.



-Ito ay yari sa kawayan at ito ay isang uri ng water whistle.
2. Diw-diwas
-

Hinihipan ng manunugtog ang mga butas nito nang

hindi sumasayad ang mga labi niya sa mga butas
-Ito ay binubuo ng limang maninipis nakawayan




C. May Kwerdas* *Chondophones = String intruments
1. Pas-ing
-gamit ng mga Igorot
-Ito ay pinapatugtog sa pamamagitan ng pagkalabit
ng mga daliri sa mga kwerdas nito
-Ito ay yari sa kawayan at

ito ay may dalawang kwerdas na yari sa kawayan.


Reference:
Jose Maceda, 1998. Gongs & Bamboo: A Panorama of Philippine Music Instruments. Quezon City: University of the Philippines Press.