Bukod sa mga Taong Tabon at mga Negritos, may mas nauna pang ninuno ang mga Pilipino na kamakailan lamang nadiskubre: ang mga
Taong Callao
(
Callao Man
). [Callao = prun. "kal - lao"; not "kalyaw"]
Noon lamang taong 2007 ay natagpuan ang Taong Callao sa kweba (Callao cave) ng Peñablanca, Cagayan Valley (Region 2).
Callao Cave, Penablanca, Cagayan Valley in Philippines
Penablanca, Cagayan Valley
Pinaniniwalaan na ang mga buto ng "Callao Man" ay mula pa noong 67,000 taong nakaran. Samakatuwid, mas nauna pa ang Callo Man sa Tabon Man (47,000 taon).
Ang nakadiskubre ay ang team of archaeologists mula sa Unibersidad ng Pilipinas (University of the Philippines) na pinamumunuan ni Professor Armand Mijares.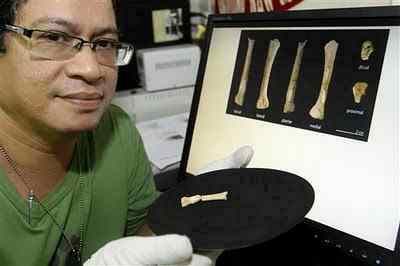 May pagkakahalintulad sa mga Aetas (Ita) ang mga katangian ng buto ng Callao Man.
Ang nadiskubreng fossil na buto ng ninuno ng mga Pilipino ay ang tinatawag na "foot bone" o mga buto sa bahagi ng paa na may mga palatandaan ng nagmula sa maliit na katawan ng mangangaso (hunter).
Ito ang mga larawan ng "foot bone" ng "Callao Man" o Taong Callao:

The foot bone discovered in Callao Cave was a mere 61 millimeters or 2.4 inches.
Photo courtesy of Dr. Armand Mijares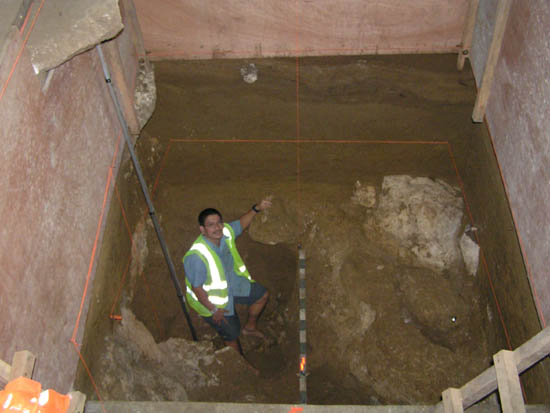 Archaeologist Armand Mijares stands in excavation site in Callao Cave where he and his team discovered the earliest human fossil in the
Philippines, and perhaps in all of the Asia-Pacific.

Photo courtesy of Armand Mijares.
Archaeologists excavating Callao Cave in the Philippines
Photo source: http://www.earthmagazine.org
A 67,000-year-old foot bone shown next to photos of the same find displayed on a computer monitor in Manila. Photo: Ted Aljibe/AFP
From left to right: Callao man, H. sapiens, H. habilis, and the other primates from Mijares
Photos: http://imphscience.wordpress.com


New evidence for a 67,000-year-old human presence at Callao Cave, Luzon, Philippines
a Archaeological Studies Program, Palma Hall, University of the Philippines, Diliman, Quezon City 1101, Philippines
b UMR 7194, CNRS, Département de Préhistoire du Muséum national d'histoire naturelle, 57, rue Cuvier, 75005 Paris, France
c Research School of Earth Sciences, Bldg 61 Mills Road The Australian National University, Canberra ACT 0200, Australia
d School of Archaeology and Anthropology, AD Hope Building, The Australian National University, Canberra ACT 0200, Australia
e Archaeology Division, National Museum of the Philippines, P Burgos Ave., Manila, Philippines
Received 24 August 2009. Accepted 22 April 2010. Available online 31 May 2010.
Abstract
Documentation of early human migrations through Island Southeast Asia and Wallacea en route to Australia has always been problematic due to a lack of well-dated human skeletal remains. The best known modern humans are from Niah Cave in Borneo (40–42 ka), and from Tabon Cave on the island of Palawan, southwest Philippines (47 ± 11 ka). The discovery of Homo floresiensis on the island of Flores in eastern Indonesia has also highlighted the possibilities of identifying new hominin species on islands in the region. Here, we report the discovery of a human third metatarsal from Callao Cave in northern Luzon. Direct dating of the specimen using U-series ablation has provided a minimum age estimate of 66.7 ± 1 ka, making it the oldest known human fossil in the Philippines. Its morphological features, as well as size and shape characteristics, indicate that the Callao metatarsal definitely belongs to the genus Homo. Morphometric analysis of the Callao metatarsal indicates that it has a gracile structure, close to that observed in other small-bodied Homo sapiens. Interestingly, the Callao metatarsal also falls within the morphological and size ranges of Homo habilis and H. floresiensis. Identifying whether the metatarsal represents the earliest record of H. sapiens so far recorded anywhere east of Wallace's Line requires further archaeological research, but its presence on the isolated island of Luzon over 65,000 years ago further demonstrates the abilities of humans to make open ocean crossings in the Late Pleistocene.
Keywords
Cave faunas;
Hominin dispersal;
Southeast Asia;
U-series dating