The Kindergarten Curriculum Framework draws from the principles and goals of the K to 12 Philippine Basic Education Curriculum Framework. It is likewise aligned with National Early Learning Framework (NELF). It clearly depicts the developmental tasks and milestones of 5 to 6 year-olds and how educators can guide them to develop holistically
.
The framework is composed of two parts:

I.
The
rectangular figures
show the teaching-learning theoretical bases:
beginning with the comprehensive

Developmentally Appropriate Practices

(DAP), then moving up to
the

principles

and leading to
the approaches

.
II. The circle consists of three main components
:
Developmental Domains
Learning Areas, and the

Curricular Themes

.
At the

center is the

Filipino child

who is envisioned

to be

functionally literate

and

holistically developed

.




A

developmentally appropriate curriculum

is one that is

age-appropriate, individually appropriate and socio-culturally appropriate

( NAEYC, 2009)

This Kindergarten framework:
considers the

developmental benchmarks of Filipino five-year-olds

,
recommends the use of strategies that address

needs and interests of the learners

, and

uses the mother tongue

as medium of instruction.
Kindergarteners are constantly developing in the different domains (cognitive, language, physical, creative and aesthetic, socio-emotional, and values and character).
The National Early Learning Framework (NELF), formulated by the Early Childhood Care and Development Council, views the Filipino Child as the most important asset of the nation.
NELF furthers its
view of the Filipino Child
as…
…
as a human being who loves God, parents, and country;
is proud to be a Filipino;
honors the customs , traditions and good values of the people,
knows his/her basic rights;
respects other cultures and
is able to live in peace and harmony with all.
Thus beginning at an early age the child must be

cared for

and

given all the

opportunities

to address current developmental needs and

prepare him/her for lifelong learning

.

Kindergarten classrooms,

therefore,

should be

multi-level

because kindergarteners

will differ in their development

in each domain.

The following are situations that a kindergarten teacher should put to mind.

1.

every

classroom

is a

multi-level classroom

2.

every

teacher

is a

multi-level facilitator

3.

every

learner

is

unique

4.

every

learner

has

particular intelligence

or intelligences

5.

every

learner

has his/her

own learning styles

6.

every

learner

has his/her

own particular needs
a. cognitive
b. physical
c. socio-emotional
7.

every

learner

has his/her

own particular wants and interests

8.

every

learning

has a

right to develop uniquely from the others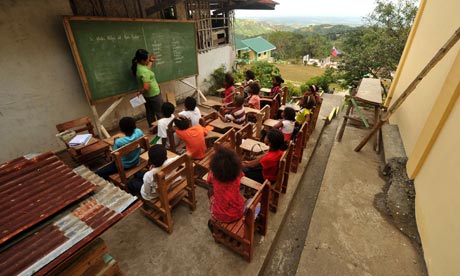 "Naninindigan pa rin po tayo sa ipinangako nating pagbabago sa edukasyon: ang gawin itong sentral na estratehiya sa pamumuhunan sa pinakamahalaga nating yaman: ang mamamayang Pilipino. Sa K to 12, tiwala tayong mabibigyang-lakas si Juan dela Cruz upang mapaunlad—hindi lamang ang kanyang sarili at pamilya—kundi maging ang buong bansa."

–

Pangulong Benigno S. Aquino III
Every Filipino child now has access to early childhood education through Universal Kindergarten. At 5 years old, children start schooling and are given the means to slowly adjust to formal education.
Research shows that children who underwent Kindergarten have better completion rates than those who did not. Children who complete a standards-based Kindergarten program are better prepared, for primary education.
Education for children in the early years lays the foundation for lifelong learning and for the total development of a child. The early years of a human being, from 0 to 6 years, are the most critical period when the brain grows to at least 60-70 percent of adult size.
.
[Ref: K to 12 Toolkit]
In Kindergarten, students learn the alphabet, numbers, shapes, and colors through games, songs, and dances, in their Mother Tongue.